2nd Fastest-Growing School District in Texas
One of the primary reasons why so many young families from the area's potential workforce are selecting the City of Forney to call home is the Forney Independent School District. "B"-rated by the Texas Education Agency for Student Achievement and Overall as a district, FISD is the second fastest-growing school district in Texas, with an exceptional core of teaching professionals.
Addressing Growth
Forney ISD serves more than 16,000 students and is guided by progressive leadership and talented educators. The District's facilities include two high schools (one 6A and one 5A), three Middle Schools, three Intermediate Schools, nine Elementary Schools, and one Academic/Early Childhood Center. Enrollment is projected to reach approximately 21,304 students in 2024-25 and is expected to continue to rise to nearly 35,000 by 2030-31. In anticipation of the growth, the District has passed two bond referendums (in 2019 and 2022; outlined below) that includes new facilities, expansions to existing facilities, and land to expand their footprint of high quality educational offerings.
Expansion Milestones
2019 -  With a 73% voter approval, residents of Forney passed a $623 million facilities bond issue to build needed new schools/campuses, expand some of FISD's existing schools, and construct a career/technology center that will become a satellite campus of Texas Tech University (the Keith Bell Opportunity Central or The OC). Forney ISD will complete projects from the 2019 bond referendum by Fall 2024.
2021 -  Three new campuses opened: Jerry and Helen Griffin Elementary School in the Devonshire community, Tony Jackson Middle School and Tim Rhodes Intermediate School. The two latter campuses share core facilities, which saved the District $4 million.
2022 - With a 65% voter approval, Forney ISD voters passed a $1.294 billion facilities bond issue to build additional facilities to handle the unprecedented enrollment growth that is expected in the next few years as housing demands have increased across Forney. The 2022 bond package includes five elementary/early childhood schools, two expansions to existing elementary/early childhood campuses, 4 campuses for middle or intermediate students, 2 middle school expansions, a high school and phase two for expansion to the Keith Bell Opportunity Central (The OC), as well as land acquisition for new facilities, a transportation center, and additional Forney Learning Academy space. The passage of this bond package did not increase the district's tax rate.
2022 - Two new campuses opened: Don R. Willett Elementary is located in Forney's Gateway community and the new O.B. Johnson Elementary campus is located in the Overland Grove development.
2023 - Opening of the Keith Bell Opportunity Central (the OC), a career, college and community campus that will be located across from the Jackson Middle School and Rhodes Intermediate and will house dual credit and CTE programs offered by Dallas College and Texas Tech University. Mary Lou Dewberry Elementary will open adjacent to North Forney High School.
Other upcoming projects:
Opening of a new Warren Middle School campus that will be built adjacent to the current location. The current Warren Middle School will become Clay R. Jones Intermediate. 

Opening of Donald P. & Vivian N. Themer Middle School next to Henderson Elementary.

Opening of Wilson Elementary, which will be located near Jackson Middle School and Rhodes Intermediate. 
Forney ISD Niche Rankings
Best School Districts for Athletes in Texas – #114 out of 1,018
Best School Districts in Texas – #211 out of 1,018
Districts with the Best Teachers in Texas – #664 of 1,032
Most Diverse School Districts in Texas – #186 of 1,032
Inspiration & Innovation (Inspiring our Future Workforce)
Forney ISD's curriculum focuses on inspiring students with innovative education, going beyond just reading, writing, and arithmetic, by nurturing lifelong skills that include collaboration, critical thinking, creativity, and communications.
Plus, the district offers Pre-Advanced Placement (Pre-AP) and Advanced Placement (AP) courses at the secondary level. Dual credit classes are also available for high school students, including college algebra, statistics, and freshman and sophomore English.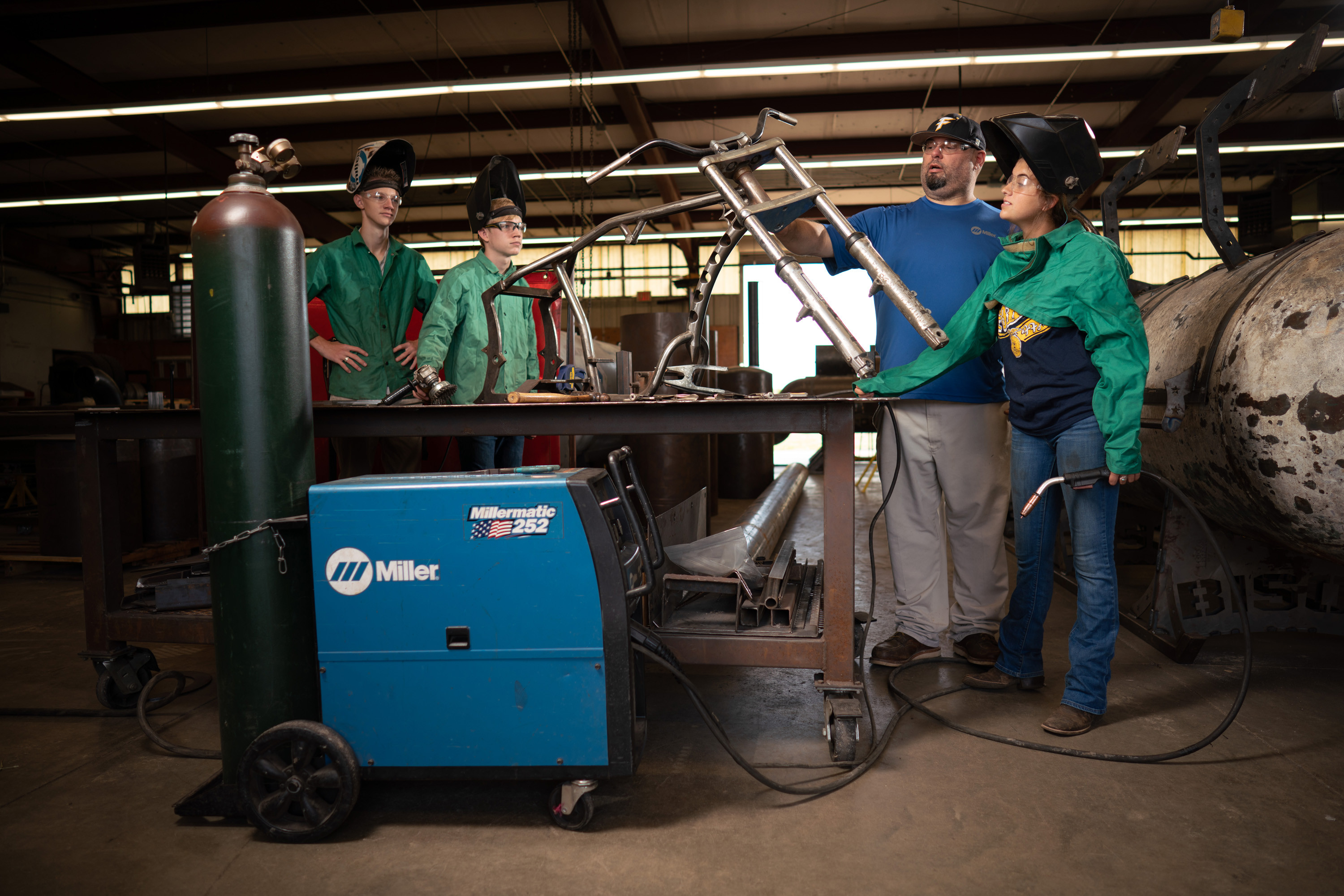 FISD's recently announced partnership with Eastfield College and Texas Tech University takes students from high school to community college with the opportunity to earn a degree at a Tier 1 University, all in Forney. The district also offers high-quality career and technology (CTE) programs, including hands-on STEM, welding, health science, and electrical trades, providing students with real-life experience.  Further, FISD practically trains students, such as running a doggy day care operation and providing vocational shadowing opportunities. 
FISD welding students work on 1,000-gallon barbecue smokers for Moberg Smokers that will be used in commercial restaurants across Texas.
FISD engineering students give back to their schools by repairing high-tech student calculators, saving the District thousands of dollars.
Extracurricular Excellence 
Many students in Forney ISD participate in and excel in a variety of extracurricular activities, recognized by UIL and other organizations for their award-winning talents in athletics, fine arts, and career/technology activities.
Higher Educational Options
As part of the Dallas-Worth Metroplex, Forney students have access to a wide choice of respected community colleges and some of the top-tier four-year universities in the country. Additionally, a number of schools offer workforce training through the Texas Skills Development Fund and provide free training dollars to qualifying employers locating/expanding in Texas. More information on this program can be found here.
Within 15 miles:
Eastfield Community College

Trinity Valley Community College

TVCC Health Science Center
Workforce training partners
Within 60 miles: (list by distance shortest to longest)
University of North Texas at Dallas (24 miles)

Southern Methodist University (24 miles)

Texas Woman's University Health Sciences Institute, Dallas (26 miles)

University of Texas Southwestern Medical School (26 miles)

University of Texas at Dallas (28 miles)

University of Dallas (31 miles)

Texas State Technical College – North Texas (31 miles)

Dallas Baptist University (33 miles)

University of Texas at Arlington (42 miles)

University of North Texas Health Science Center (55 miles)

Texas A&M University – Commerce (56 miles)

Texas Christian University (57 miles)

University of North Texas, Denton (60 miles)

Texas Woman's University, Denton (61 miles)