Forney's infrastructure and utilities are ready to meet and exceed the needs and requirements of your company or operation, so you can focus on your core business and its success.
Infrastructure
Roads
U.S. Highway 80 is a major east-west highway across the southern United States that runs through the City of Forney with growing residential and business development on both sides of the four-lane divided highway. Forney businesses also have the advantage of Interstate 20, less than five miles away. Both roadways provide fast, convenient access to Dallas, all North Texas business centers, and beyond.  Further, Forney's strategic location in the south central United States allows distributors to reach over 63 million people within a day's drive.
To accommodate increased traffic in and around Forney, the Texas Department of Transportation (TXDOT) has a number of expansion and improvement projects underway:
FM 460 – Replacing bridge and approaches at FM 460 and Hwy 80 (2022)

FM 548 – Widening and reconstructing a rural two-lane road to a four-lane urban road stretching from U.S. Highway 80 to FM 205 (2023)

FM 1641 - Widening and reconstructing a rural two-lane road to a four-lane urban road stretching from FM 548 to FM 148 (2022)

U.S. Highway 80 – Expanding to six lanes from Mesquite to FM 460, as well as reconstructing discontinuous frontage roads (2022)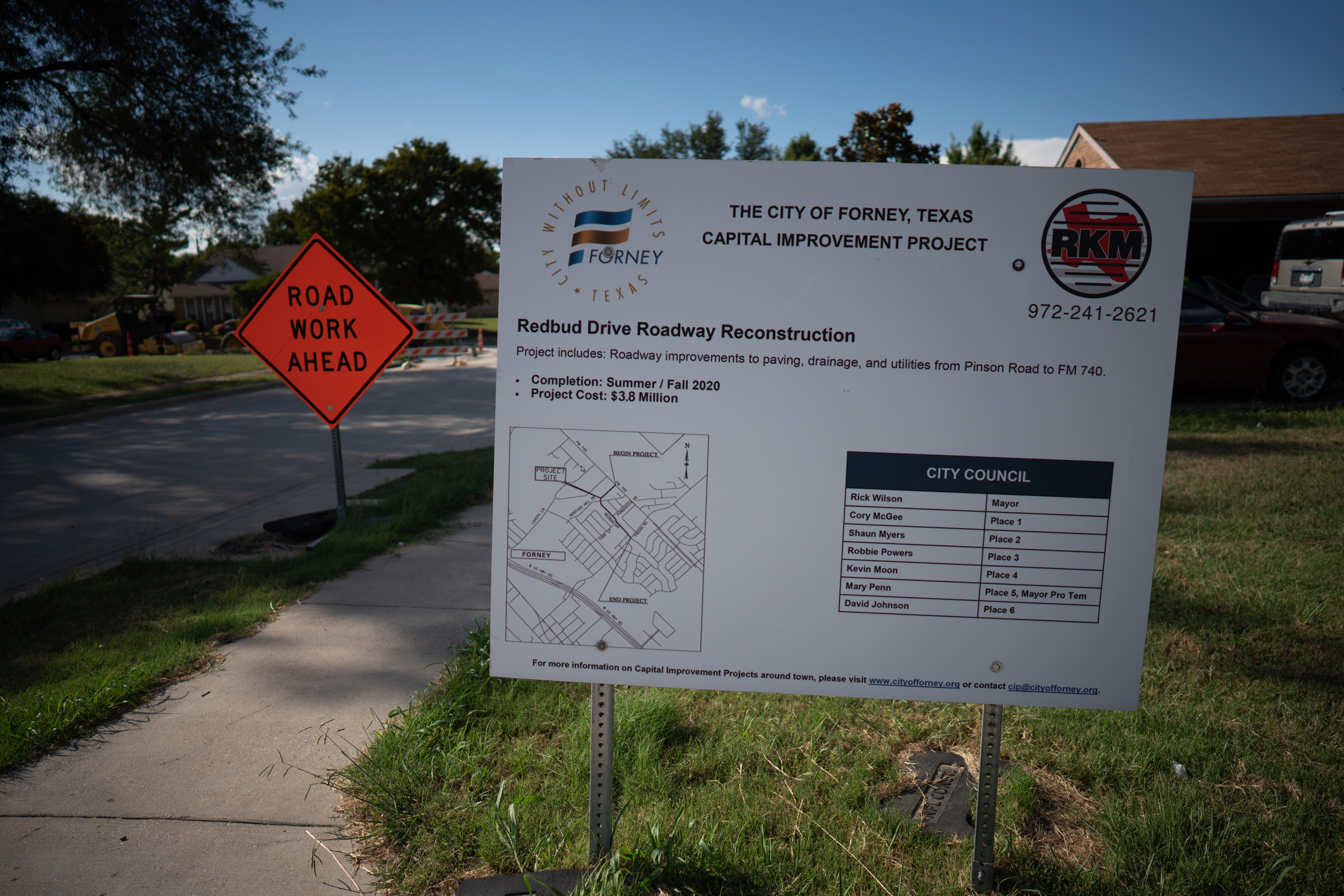 Fire ISO Rating
The City of Forney's Insurance Services Office (ISO) Fire Department rating is a Class 1, the nation's highest ranking. Graded on a number of factors, including equipment, manpower, fire alarm facilities, water supply, and distribution systems, only 180 fire departments nationwide and 52 in the State of Texas have achieved this rating.
Rail
Forney is served by the Union Pacific Railroad.  A Union Pacific intermodal facility in Mesquite (12 miles) and an intermodal hub south of Dallas in Wilmer (22 miles southwest) are both available for companies needing access to rail service. Union Pacific Railroad covers 23 states across the western two-thirds of the United States.  More information about their network can be found here.
Utilities
Electric
Forney is served by three electric suppliers – Oncor, Trinity Valley Electric Cooperative, (TVEC) and Farmers Electric Cooperative, with Oncor being the largest service provider. Forney EDC works closely with all three providers to ensure businesses are able to obtain the proper electric load for their location or business. 
Oncor is the electric provider for the majority of the Forney market, including Downtown, the north side of U.S. Highway 80, and the Gateway development. Oncor is the main electric supplier for the North Texas deregulated market where businesses may select their own electric retailer, providing for cost competitive rates.
Oncor's substation is located on the west side of Forney and a second substation is located four miles east of the Gateway development with the potential for dual-feed service. Ongoing evaluation and prioritization, based on projected new business electrical loads, will determine the construction of future substations. Oncor can supply the electric demands of virtually any end user.
Trinity Valley Electric Cooperative 
TVEC supplies electricity to southern part of Forney near Interstate 20 and around Forney High School. As an electric co-op, it does not participate in the deregulated electricity market. TVEC has a substation near I-20 and Helms Trail to serve this growing area of the community. 
Farmers Electric Cooperative
Farmers supplies electricity to a small portion of north Forney and Kaufman County along FM 548 north of Gateway to the large subdivisions of Windmill Farms and Devonshire. Farmers Electric Cooperative does not participate in the deregulated electricity market.
Water
The City of Forney is a member city of the North Texas Municipal Water District (NTMWD), one of the largest water systems in the State of Texas.  They provide water to nearly 2 million customers in 10 counties. In addition to Forney's membership with NTMWD, there are several additional water suppliers serving our city, with the two of the largest being the City of Forney and Talty SUD. 
The City of Forney primarily serves areas west of FM 1641 and north of Melody Lane, including Downtown and a majority of the U.S. Highway 80 corridor. As a member of the North Texas Municipal Water District, Forney has a water capacity of 52 MGD, with a 30-inch transmission line running parallel to the Union Pacific railroad. 
Talty SUD's primary service areas include the Town of Talty, areas east of FM 741, and Gateway (south of U.S. Highway 80). Their Gateway service features a new one-million-gallon water tower with upgraded 18-inch lines.
Additional Forney water suppliers are Markout WSC (south end of Forney and Interstate 20), High Point WSC (Gateway north of U.S. Highway 80 and FM 548 Corridor), and Forney Lake WSC (west side of Forney and Travis Ranch MUD).
Wastewater
The City of Forney is the sole provider of wastewater services through its membership with the North Texas Municipal Water District (NTMWD). The infrastructure is carried throughout the city limits and continues to expand as the community expands. The wastewater network is capable of processing large amounts of wastewater at nearby treatment facilities owned and operated by NTMWD. 
Natural Gas
Forney is served by three natural gas companies – Atmos Energy, CoServ, and Si Energy. 
Atmos serves the majority of Forney, including Downtown, and most of the major subdivisions within our city limits, as well as Devonshire MUD.
CoServ provides natural gas to the eastern end of Forney, including Windmill Farms MUD. It is also the main provider for the Gateway development with an existing 8-inch poly line running along the north and south ends of Gateway Boulevard that can be upsized, if needed.
Si Energy provides natural gas to the western side of Forney, mainly along the FM 460 corridor and north of U.S. Highway 80 along with the Lakewood Trails subdivision on the south side of town.
Fiber Optics
The City of Forney offers a well-developed fiber optics infrastructure to meet the needs of new and expanding businesses and developments. Plus, Forney has the advantage of a mostly underground fiber network and benefits from close proximity to Dallas' robust telecom infrastructure, providing microsecond access to the Dallas Infomart, one of the largest interconnect hubs in the United States.   
With fiber optics throughout the city, AT&T is able to extend fiber to commercial sites at no cost to the business.
Suddenlink provides a network of fiber throughout Forney and is able to extend it to commercial sites.
Serving commercial sites around Forney, OneRing Networks provides both fiber optics and fixed wireless options.
Visit the OneRing Website
As a cooperative, Peoples Telecom provides fiber optics, fixed wireless internet, and additional telecom services to targeted areas in Forney.
With an increasing fiber footprint in our city, Zayo has fiber optics along the U.S. Highway 80 and County Road 212 corridors, along with FM 460, north of U.S. Highway 80 and the downtown area.
Verizon provides a fiber optics interface point east of Gateway Boulevard at U.S. Highway 80. Depending on specific industrial site needs, Verizon may be able to extend fiber from this interface point to serve a large end user.
For additional information, check out a special fiber optics study of the Gateway development commissioned by the Forney EDC.