The opportunity for retail in Forney is indeed limitless. Our city provides a primary trade area of over 65,000 people, fueled with an annual demand of over $876 million (Esri 2019).  Currently, the Forney trade area leaks over $431 million showcasing high demand for new retail and restaurant options.  By 2025, Forney's primary trade area is anticipated to grow to almost 100,000 people (RSI May 2020).
Vehicles Per Day (VPD) Traffic Counts
65,000+     U.S. Hwy 80 near FM 548

21,000+     FM 548 near Ridgecrest Rd.

14,000+     FM 741 near FM 548

10,000+     Downtown Forney - Bois D'Arc St.
Kroger Marketplace, Walmart, and Lowe's are just a few of the many "big box" retailers that already call Forney home, and as the number of major mixed-use developments and neighborhood shopping centers in Forney increases, local and national retailers, restaurateurs, and investors can choose from a wide range of retail sites and space.
Retail Developments
This successful retail power center in Forney is anchored by Walmart and Lowe's Home Improvement, located just off U.S. Highway 80 and FM 548. Mustang Crossing reports on average over $150 million in annual retail sales from tenants that include Chili's, Chick-fil-A, AutoZone, Starbucks, AMC Theatres, and Chase Bank. 
Anchored by one of the top-performing Kroger Marketplaces in the DFW region, this prime 65-acre development sees one of the highest VPDs in the Forney area and is surrounded by growing residential neighborhoods. Forney Marketplace tenants include MOD Pizza, Pet Supplies Plus, Smoothie King, and Panera Bread. There are also 25 acres adjacent to the site and 40 acres behind Kroger at U.S. Highway 80 Frontage Road and Trailhouse Lane for additional pad sites, commercial, and mixed-use development.
This high-traffic and high-visibility location offers approximately 20 acres and provides access via a lit intersection just south of U.S. Highway 80 with additional pad site and interior space for restaurants, retail, clothing, entertainment, and other commercial uses. Tenants include a RaceTrac gas station and a future McDonald's and Firestone Tire Service (currently under construction). Driving additional traffic are nearby Raising Cane's Chicken Fingers, Chipotle (currently under construction), Forney Medical Plaza (80,000 square foot facility), and the City Bank office building, along with the 1,242-lot Fox Hollow subdivision.
This combined 50-acres of prime retail and commercial land is suitable for a grocery-anchor, pad sites, office, healthcare and mixed-use development. Located near some of Forney's fastest growing neighborhoods, this site has the potential to serve over 6,800 new and planned home lots.  It is also minutes away from the I-20 corridor, complete with over ten thousand of new and planned home lots.
Close to Mustang Crossing and Forney Marketplace, this site provides strong traffic counts of over 21,000 views per day and is located on the southwest quadrant of FM 548 and Ridgecrest Road, anchored by an Aldi grocery store with tenants such as Golden Chick, Pinnacle Montessori, and Buttermilk Sky Pie Shop. The site has the availability for a Phase 2 of strip retail. Plus, there are additional 50 acres of land across from Ridgecrest Corners suitable for retail, restaurant, office, commercial flex, and mixed-use purposes.
Liberty Hill (U.S. Highway 80 at FM 688/Broad Street)
This highly visible 27-acres of land is suited for retail and commercial development, including hotels, pad sites, retail, restaurants, fueling center, travel-related business, office space, and mixed use. The property provides dual access from Broad Street and U.S. 80 Frontage Road and is prepped with all utilities to the site.
At the northwest corner of Gateway Boulevard and U.S. Highway 80, Gateway features up to 200 acres for commercial development that is great for a grocery-anchor, big box/destination retail, industrial with a retail component, hotel, entertainment, and other related uses.
Leakage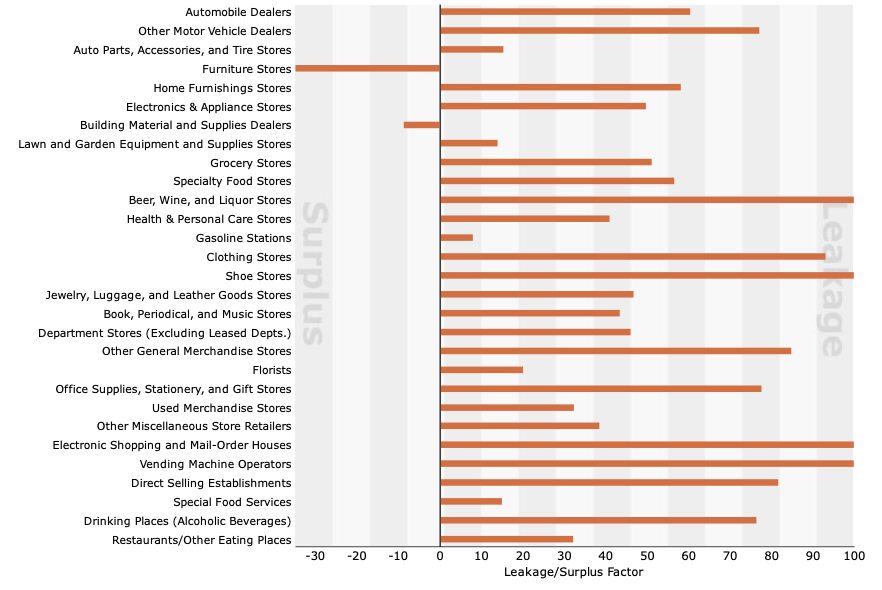 Downloads