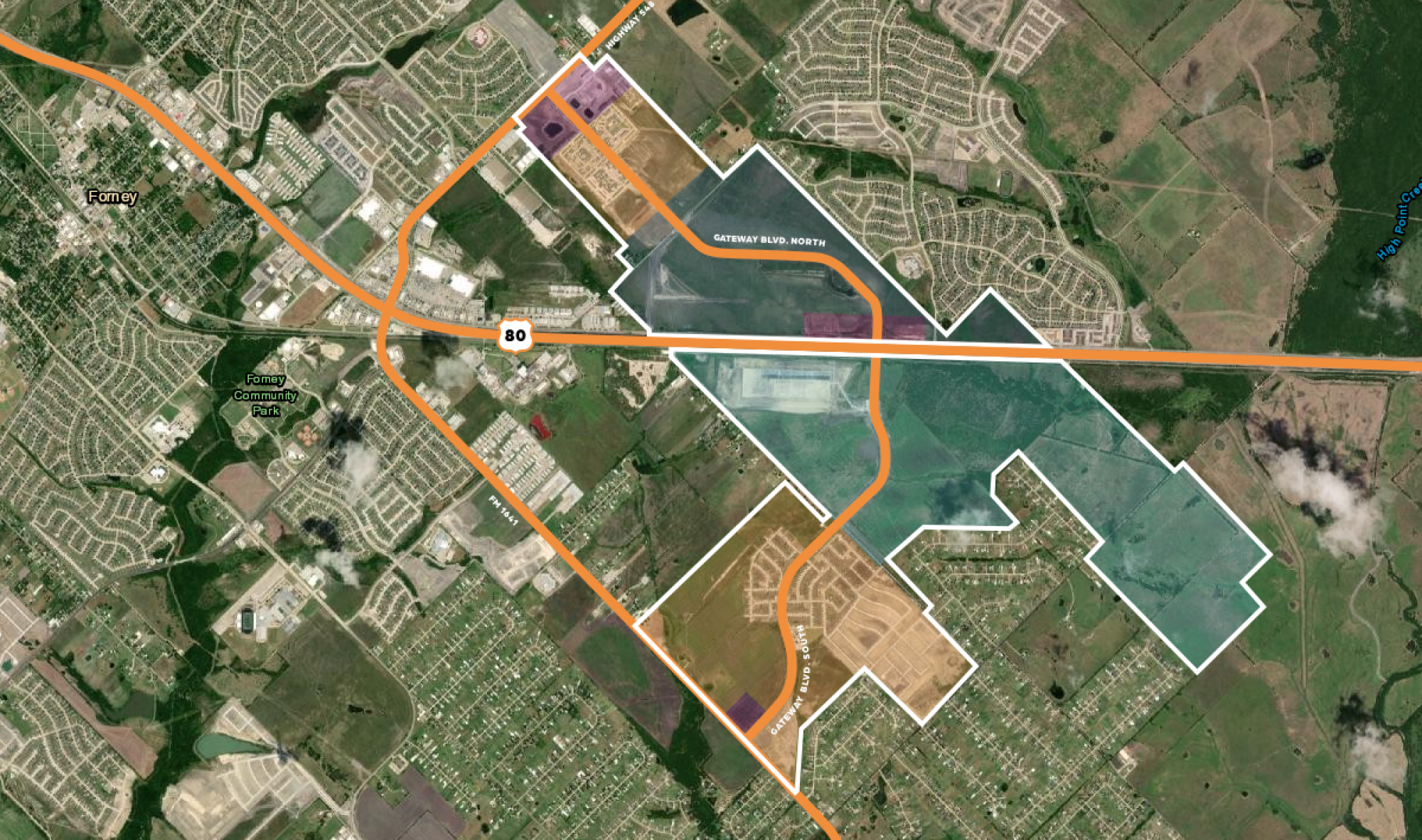 A premier retail destination located at US Hwy 80 and Gateway Boulevard that will draw visitors from not only Forney, but also from surrounding cities as well as regional travelers

Within the Gateway and Forney, TX trade area there are ±90,000 residents/consumers

A mix of large national brands and local boutiques will provide every day necessities as well as fashion, sports, home decor and much more.

Restaurant Pad Sites are available to serve area residents and the thousands of people who will drive by this location every day.
Multi-Family
Gateway apartments provide the perfect retreat. 21 miles east of Dallas off US Highway 80, you will find a community where hometown pride combines with a sophisticated way of living.
Gateway Cedars: 334 units - currently at 100% occupancy

Gateway Oaks: 313 units - currently at 100% occupancy
1 bedroom/1 bath, 2 bedroom/2 bath, 3 bedroom/3 bath Resort-style swimming pools
Single Family
Gateway Parks is a community where everything has been designed for comfort. A system of trails and landscaped streets connect neighborhoods to parks and neighbors to each other.
Gateway Parks Model Homes - Now Open 439 Phase I Lots complete Comprehensive resident amenity package Planned elementary school on-site
Petro-Hunt's Gateway mixed-use development also offers 400 acres of highly visible commercial property, located on the northside of Gateway Boulevard and U.S. Highway 80, offering limitless potential for retail, medical, hospitality, entertainment, and office space.  
Zoned Office / Industrial
One of the largest industrial developments in the City of Forney is Gateway, owned by Petro-Hunt, LLC based in Dallas, with over 500 acres of planned industrial land, perfect for a wide variety of businesses, including advanced manufacturing, distribution centers, data centers, or office/flex space. Located on the south side of U.S. Highway 80 and Gateway Boulevard (six-lane road), connected by the Gateway Bridge.  
Gateway is served by the following utility providers:
Electricity  – Oncor

Water – Talty SUD, High Point WSC

Wastewater – City of Forney

Natural Gas –  CoServ

Fiber Optics – AT&T, Suddenlink, Zayo, People's Telecom

Networks – Verizon (interface point with service, depending on needs)  
Two premier Gateway tenants, each with massive distribution centers, are: Amazon with a 200,000-square-foot distribution center, and Goodyear Tire & Rubber Co.'s 1.2 million-square-foot distribution center.